Bienvenue to Café M – where French Delights pair with Southern Hospitality.
Café · Catering · Delivery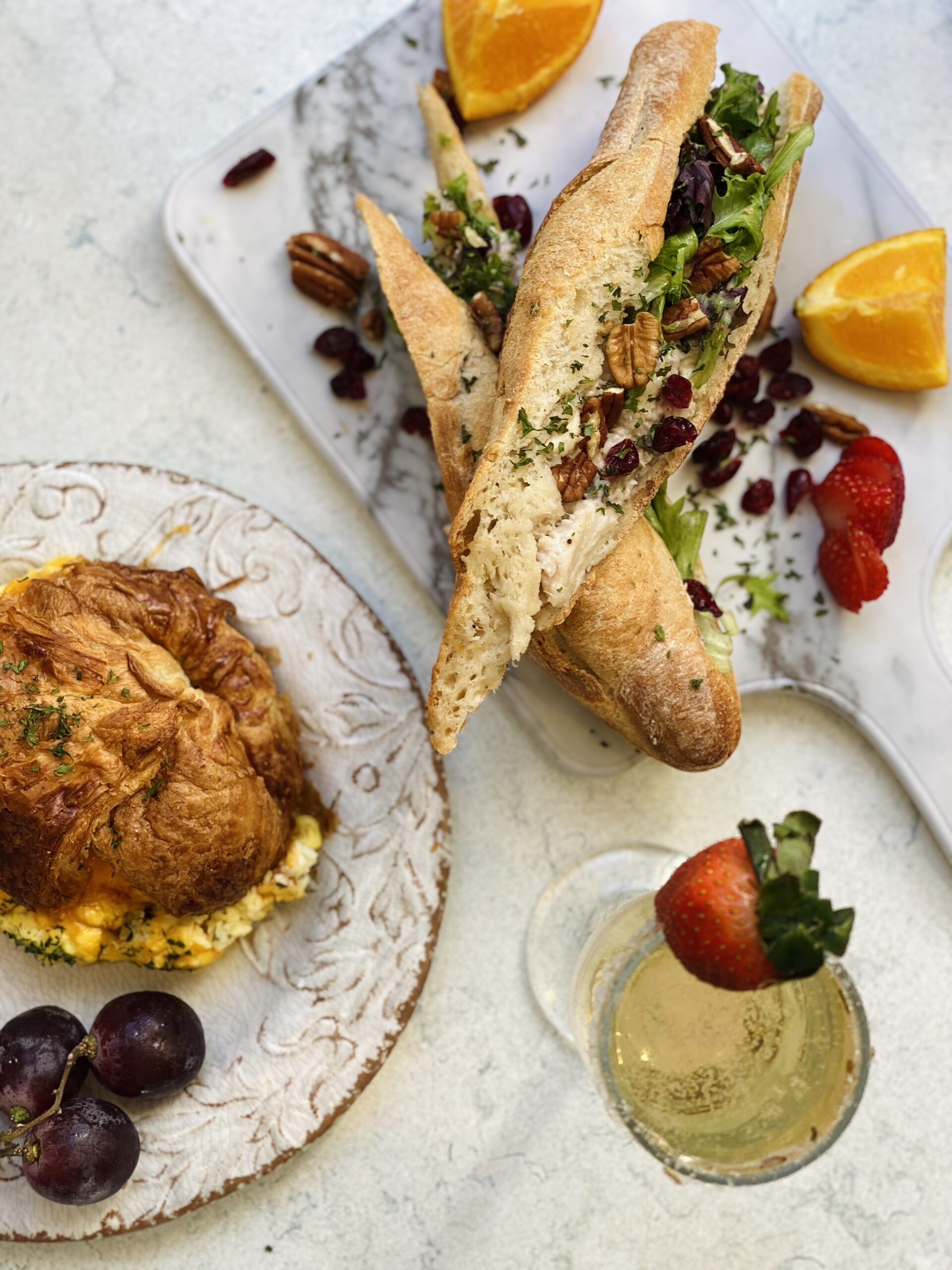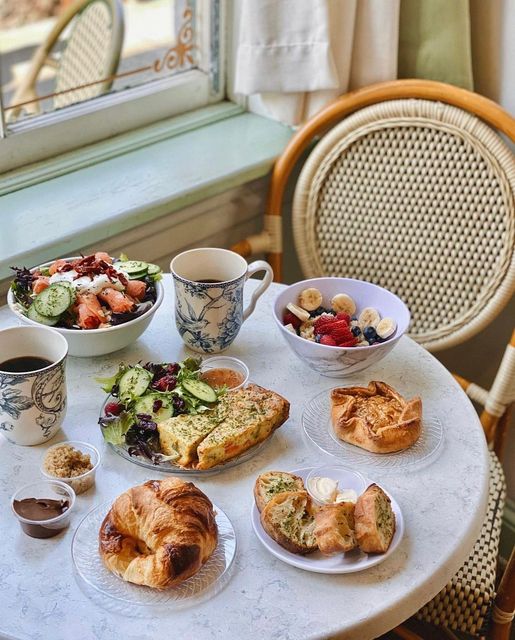 Gourmet Gastro Selections in the Heart of Savannah
French Pastries · Macarons · Salads · Quiches · Sandwiches · Soups
These are just a few of the delectable sweet and savory menu items you will find just steps above River Street on Bay Street, situated in Savannah's Historic Downtown District. Café M, an authentic Parisian café, awaits you with quaint French decor and traditional sounds of France as though you've just stepped out of Savannah and into Paris. 
This popular spot serves freshly brewed coffee all day to complement an extensive Parisian menu. If you are in the mood for something stronger, Café M has a wonderful wine, champagne, and mimosa selection. While you wait for your handcrafted baguette sandwich or latté, take a moment to peruse our selection of imported foods, goods, and artwork from Europe. 
While you lounge at the pet-friendly outdoor bistro tables or inside this welcoming café, you'll enjoy authentic French ambiance and gastro delights and experience true Southern hospitality. 
"French Delights – Southern Hospitality" ™
Click on the photos to access our full main menu or brunch menu. We offer café dining, takeout, or several delivery options. For delivery choices, please see the next section for options. Prices and menu items are subject to change without notice. 
Experience Delicious French Cuisine at the Café
or in the Comfort of Your Home
Choose from an array of online ordering services that suit your needs for takeout and delivery. We are open every day from 8 am until 3 pm. The kitchen closes at 2:30 pm. We do not accept reservations at this time. 
We now offer catering! Inquire about our drop off catering packages for your next event. The perfect choice for your next birthday, wedding, networking, or charity event. We will discuss and tailor our catering packages to your needs. 
My latte was perfect and the toasted croissant was on point! Perfect way to start the day. Hally helped us and she s awesome. Super welcoming made us feel like family. I will for sure be back!
So good and so full! We got the Normandy sandwich and a breakfast sandwich. Highly recommend stopping by and having a bite to eat.
Christine was so lovely and her staff was so accommodating and friendly! Food was great and many fun drink deals available. I came here with some friends on a girl's weekend and they made our Saturday morning so special! Looking forward to coming back. Bottomless mimosas were top tier.
This place is amazing and they had amazing chocolate milk there service was amazing Kid-friendliness: They had really good chocolate milk
We absolutely love this little French cafe. The roasted red bell pepper tomato soup is wonderful!!!
First time trying this Cafe. Me and lady stopped in for a latte, coffee, and a chocolate croissant. It was delicious! The staff was super friendly and helpful when deciding what to order.
Lovely bistro chairs and tables, a latte that tastes like an actual latte instead of sugar, gluten free and vegetarian options! The service was excellent and both Halle and Maile were super nice, cheerful and attentive. The people make this place! We will be back.
This was a completely unexpected. I don't usually pick cafe breakfast places but this was a pleasant surprise for me. I had the breakfast sandwich on a croissant with Prosciutto. It was delicious the Swiss was perfectly melted and croissant toasted just right for that flaky crunch. I topped it off with a a parfait that usually is store bought but this was actually fresh! Fresh granola, fruit, and Greek yogurt. I highly recommend trying Cafe M.
Bright and cheerful. Felt immediately at home. The breakfast was excellent! The coffee outstanding. Will definitely be back!
This delightful bistro is nestled in downtown Savannah along the river. It was clean, service was fabulous, and food was good. Another plus is that they are pet friendly.
"French Delights - Southern Hospitality" ™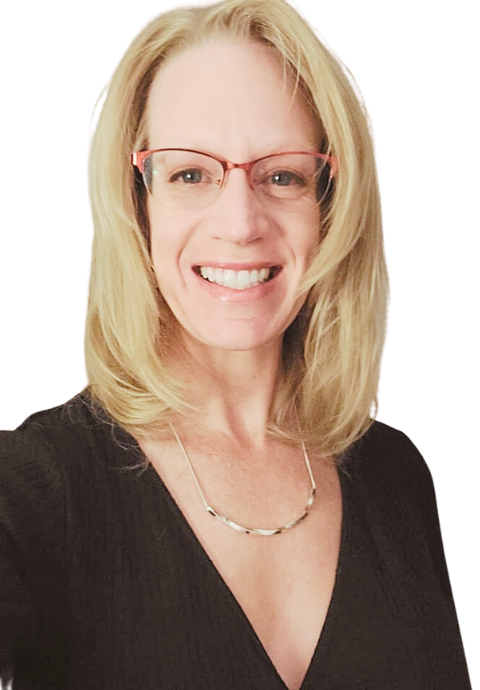 As a 20 year United States Army Veteran, I understand the need for teamwork to drive customer satisfaction. In my new venture at Café M Savannah™, I am able to lead a team towards our common values - offer great customer service and excellent food in a memorable atmosphere. We are delighted to have you visit Café M in the heart of downtown Savannah. Come discover a French twist to Southern Hospitality.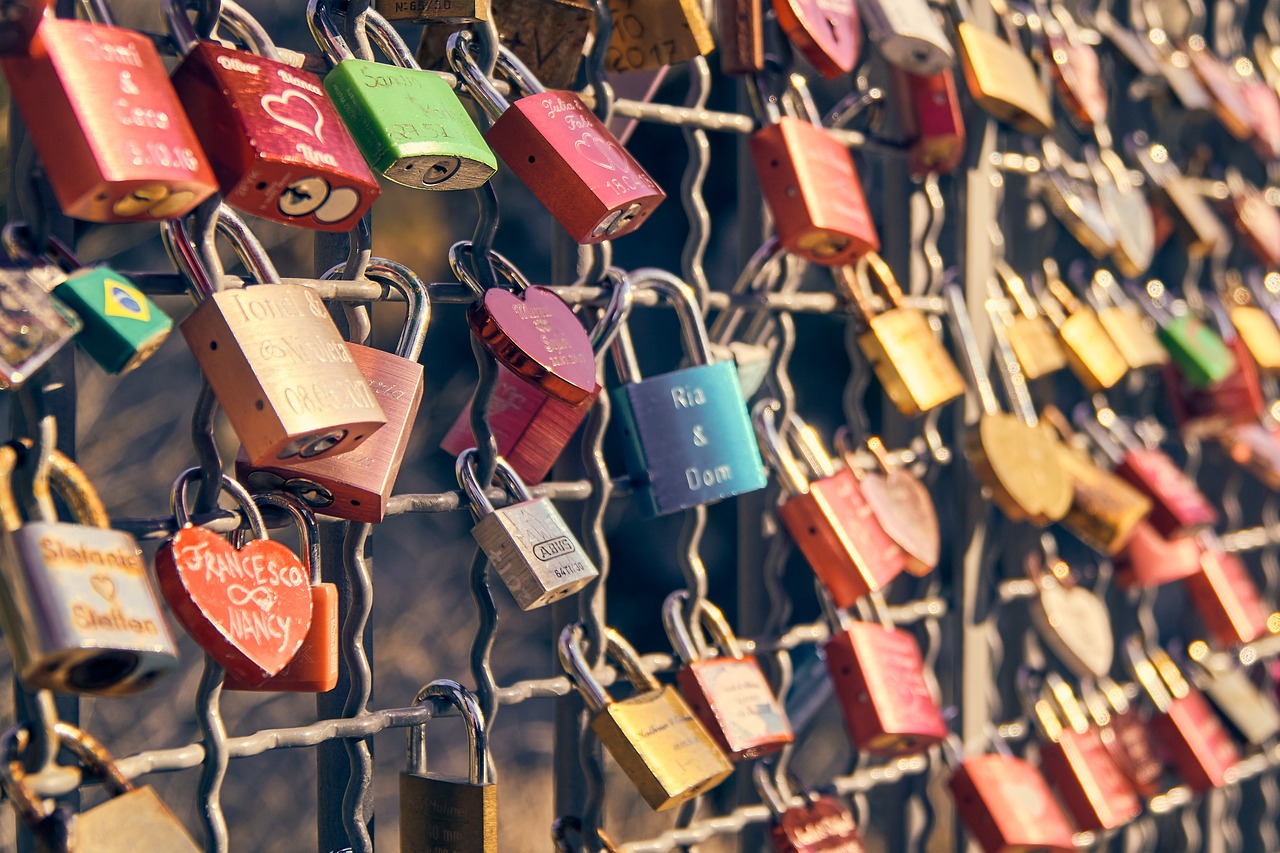 Just like in Paris, we offer padlocks to seal in your love and wishes... ask us about purchasing a padlock with your order. Our sweet and celebrated "Love Lock Bridge" is just around the corner from Café M.
Let's Make it a Brunch to Remember.
Voted Top 10% Best Restaurants Worldwide based on reviews and ratings from Trip Advisor.